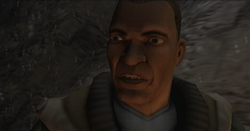 Reliance is the eighth mission in Second Sight. It takes place in the Huvat Plateau on 21st February, 21:05 hrs.
Colonel Starke and John Vattic are on night watch at the WinterICE camp. They have left the area to investigate strange lights which John has seen in a nearby forest gorge.
Objectives
Edit
Colonel Joshua Starke: "Vattic? You okay?"
Dr John Vattic: "Yeah... No. I can't stop shaking."
Starke: "Pull yourself together man. You gave a good account of yourself back there. You saved her life. She's important you know."
John: "And what makes you say that?"
Starke: "Her psychic advice saved southern California."
John: "Excuse me?"
Starke: "She was right about a terrorist cell and a briefcase nuke. So I'm willing to bet she's right about Grienko and about you. I can rely on her. Can I rely on you?"
John: "Yeah, yeah - I'm okay now."
Starke: "Good."
John: "Hey, did you see that?"
Starke: "I'll check it out."
Starke: "Good work! She was right about you!"
John: "Thanks."
Starke: "This can't be right."
John: "What?"
Starke: "This equipment - it's not Russian. It's U.S. special forces."
John: "You mean?"
Starke: "Yeah - our side!"
In Wilde's future, this is where Colonel Joshua Starke died.
Failing this mission will show the "Starke Dead" Enigma cutscene.
If Vattic attacks the Colonel, he will fire upon John. If John dies, or he kills Starke, the "Psycho" Enigma cutscene will be shown.